A Spa Treatment at The Canine Spa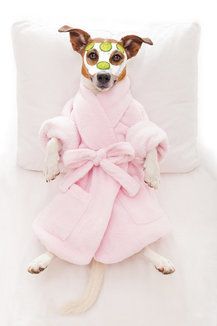 When your pooch arrives at The Canine Spa, he or she will be greeted personally and escorted into the spa.
There will be a relaxing blend of aromatherapy oils - Lavender Oil, Ylang Ylang Oil and Roman Chamomile Oil - released into the atmosphere from a air purifying, ionizing diffuser. Canine relaxation music (RelaxMyDog) will be playing throughout your pooche's visit, to aid in calming your companion during his or her visit. Mookaite, an Australian Jasper, acknowledged as a aid in animal communication, will be worn by your dog's groomer, again to help make your companions stay more comfortable and relaxing.
Your canine will be placed on an anti-fatigue mat (which is on all grooming tables, for the comfort of your pooch) for a pre-clip.
The next step is a hydro-bath. The water is set at an appropriate temperature for the time of year for your companions comfort (cool water in summer, warm water in winter). The Canine Spa applies hypo-allergenic, soap free shampoo and conditioner from Animal House, a quality assured, A grade, show grooming product range with no harsh chemicals.
Your pooch will be individually fluff blow dried, whilst standing on a grooming table, on an anti-fatigue mat. The high velocity dryer blows the water off the coat and helps to remove matts and tangles. To aid in your pet's comfort, a Happy Hoodie will be placed over your dog's head to help protect your companions' hearing, helps calm your dog with a swaddling effect and reduce drying time. Brushing and combing are carried out during this section of the groom. Coat Magic spray from Animal House is utilized to assist in loosening those matts and knots so they will be easier to remove.
Clipping and scissoring are next on the list. This is the longest of the processes and where I feel the anti-fatigue mat really helps your dog. Here I do my best to give your pooch the look you asked for. The aromatherapy diffuser has been placed in close proximity to this area so it can really do its magic to relax your pooch.
Long toe nails can be quite painful for your canine. At The Canine Spa we try our best to trim them short, so that the quick can recede so the nails can be trimmed shorter each visit until they reach a comfortable length and only maintenance is required.
After all of this intense work, your companion deserves a bit of pampering. A Bowen Therapy based massage technique is given as a general, all over body treatment.
N.B. If your pooch visits The Canine Spa for other services/treatments, he or she will be awarded the same quality of treatment.
Gentle restraints are used for the safety of your pooch and the groomer.
Contact Details
Dawn/Rhonda
Black Mountain Range Road, COOROY, Queensland
PHONE: 0490 159235
EMAIL: [email protected]
FACEBOOK: facebook.com/cooroy.thecaninespa.grooming